Your Neighborhood Full-Service Butcher Shop
About The Butcher's Market, Charlotte, NC
Since 2010, our market has revived the art of the neighborhood butcher.
At The Butcher's Market, we're a family-owned company that has proudly served the Charlotte, North Carolina area since 2010. However, our story started back in 2003 long before we opened the doors to our local market. At that time, lifelong friends Jason Parent and Justin Rosberg opened their first store in New Hampshire with an aim to provide exceptional service and revive the days where friends and neighbors would purchase quality meats from their local butcher.
Today, our location in Charlotte exemplifies the values the founders of our parent company had in mind more than a decade ago. When you walk through our doors, you'll find everything you need to cook a quality, home-cooked meal for your family. We carry eggs, bread, pies, and most importantly, meat. From chicken wings and all-natural beef steak to dry-aged steaks and veal, you won't find a selection of quality meats quite like ours anywhere else.
While you shop at our market, you can expect to enjoy a level of unparalleled customer service. Our friendly staff will be right there to open the door for you, answer any questions you might have, and take your groceries straight out to your car.
Stop by and see us at The Butcher's Market today, and start enjoying picking up groceries once again. We can't wait to introduce you to our quality selection of meat products and provide you with a level of customer service that reminds you of the past.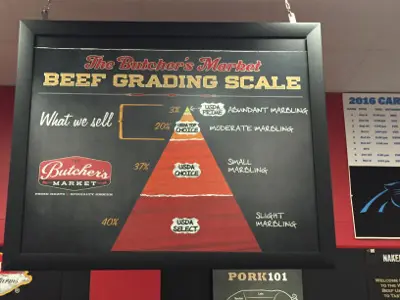 Contact Us Today!
Business Hours
Sun 9:00 AM – 7:00 PM
Mon 9:00 AM – 7:00 PM
Tue 9:00 AM – 7:00 PM
Wed 9:00 AM – 7:00 PM
Thur 9:00 AM – 7:00 PM
Fri 9:00 AM – 7:00 PM
Sat 9:00 AM – 7:00 PM